Welcome back to the Sin Bin! Today I'm showcasing the one and only Green Ocean, and I'm gonna be totally honest about this mani: I didn't really like it. Green Ocean is a glitter topper, and I wasn't going to wear that by its lonesome. So I coupled it with Sally Hansen Insta-Dri In Nude-tral for this subtle, glittery mani.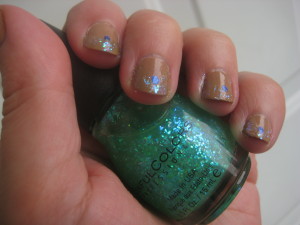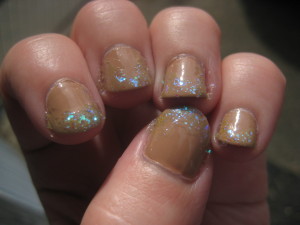 As you can see, Green Ocean is barely visible here without the light hitting it, but when the sunshine did it popped. I made a mistake in not pairing it with a green or blue or even a pinker nude. I probably would have liked this mani a lot more if I had. Oh well!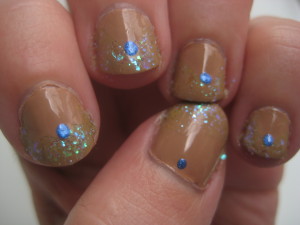 Now with bonus blur! I added accent dots of OPI Miss Piggy's Big Number, but it couldn't save it. Now, I'm not knocking Green Ocean. It's a fine glitter topper if you're into glitter, although some of the larger shard glitters are a little annoying if they go off the edge of the nail. If you're after some cheap, iridescent green goodness, you can't really go wrong here. Overall, I think Green Ocean is a good polish, so don't let my blah mani deter you from checking this one out! It's a core collection polish, so it's pretty easy to find.