Today I have Mint Tropics, which is not a core color and so might be a little harder to come by, but if you do come by it, grab it! This luscious minty seafoam green immediately became one of my favorites!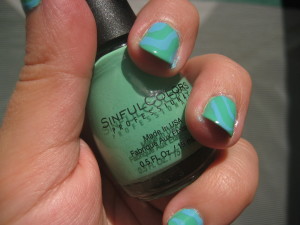 Green is a tricky color, it seems. I've heard that it's one of the more staining colors, which might be why I don't see that many greens out there–or at least, not many I fall in love with. But let me tell you, this was love at first sight. Normally my skin looks rather pinkish and flushed with a lot of polishes, but I feel like this one actually makes me look tan! Awesome! That said, I don't believe this is a neon polish, it's just very bright.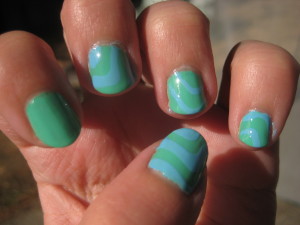 Mint Tropics is paired with Wet n Wild Sky Me Mine, a pretty sky blue polish that is just as bright and similar in hue to Mint Tropics. I used a nail stencil from Walgreens and applied one coat of Sky Me Mine over three coats of Mint Tropics before pulling off the stencils. Looks kinda wave-like, don't you think?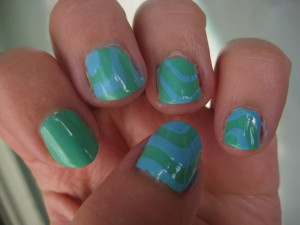 I'm in love. Do I recommend this polish? Let's answer that with a resounding yes! A quick warning, however–this green will stain your nails.