Today is Feel the Vibe, a nice tangy orange from Sinful Colors' core line. Unfortunately, I neglected to take any notes and can't remember what the formula was like, sorry!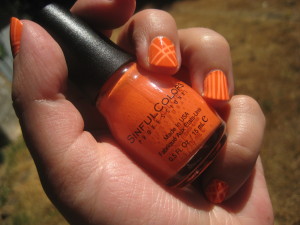 For this one I decided to use the striping tape I was recently gifted, since I've never used striping tape before. Let me tell you, it does NOT play nice with watery polishes! I originally had a third polish in this mani but it was too watery and I ended up not using it because it didn't look right. Striping tape is small and delicate, and since I wasn't sure what I wanted to do I just played with various designs. The thumb is my favorite.
The other polish I used is China Glaze Sun of a Peach, a serious contender for my favorite pun polish name.  Feel the Vibe is not a neon, but it is a bright carroty color, slightly on the dark dusty side. It went on pretty smoothly, if I remember correctly, and was opaque enough to make those stripes in one coat.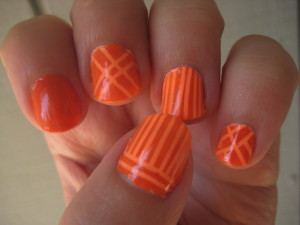 Overall, I liked this polish. I'm a little disappointed in myself for being so lackluster with the design, but that's life sometimes. Do I recommend this polish? Yes. It's not a bad orange, for all it's a simple creme.