It's Sin Bin time again, and today let's meet Let's Meet! This is another core collection color, although when I saw it in the display I noticed something—namely that there are TWO! The one that I own is a plain creme and the other one is a shimmer. I'm not sure if one is more recent than the other, if it was a rerelease, or a reuse of the name. Here's some comparison bottle shots.
As you can see, I am not wearing the shimmery one!
It's a good color, a cheerful warm canary yellow. It's slightly on the dusty, muted side, but that's just how I like my yellow so I'm very pleased with it. Formula was good, though my application was slightly patchy, and I did have some small bubbling issues.
I'm trying out a new topcoat, the famed and popular Seche Vite quick-dry topcoat. I'm wearing it on my thumb, middle, and pinkie fingers and wearing Sally Hansen Insta-Dri topcoat on the remaining two. I'm still in the process of trying to find a good topcoat, so this is a comparison test on wear and tear. My nails are notorious for chipping.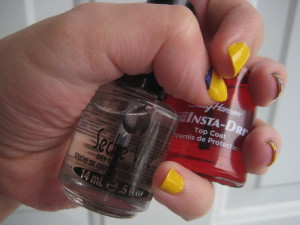 I own no dupes for Let's Meet. The purple shade in my mani is Revlon Brilliant Strength Fascinate, a lovely purple with fascinating blue and purple shimmer. Yellow and purple are complementary colors, so together they both pop wonderfully! I'm completely in love with this mani.
(top-bottom: inside, outside shade, outside sun)
CHIP TEST RESULTS!
My pointer finger chipped after five days, and there was some minor chipping on my middle and ring fingers after a week of wear. The tipwear was expected and still not as bad as it usually is! Seche Vite wins this round.