Latest posts by Admiral Kettch
(see all)
Hi all and welcome to a special edition of Polish for Pennies. What's so special? Well, today I'll be featuring one of the first bottles of nail polish I ever bought: Sally Hansen Xtreme Wear Lime Lights. I believe this color has been discontinued but it's still worth a look so stick around and I'll share my thoughts.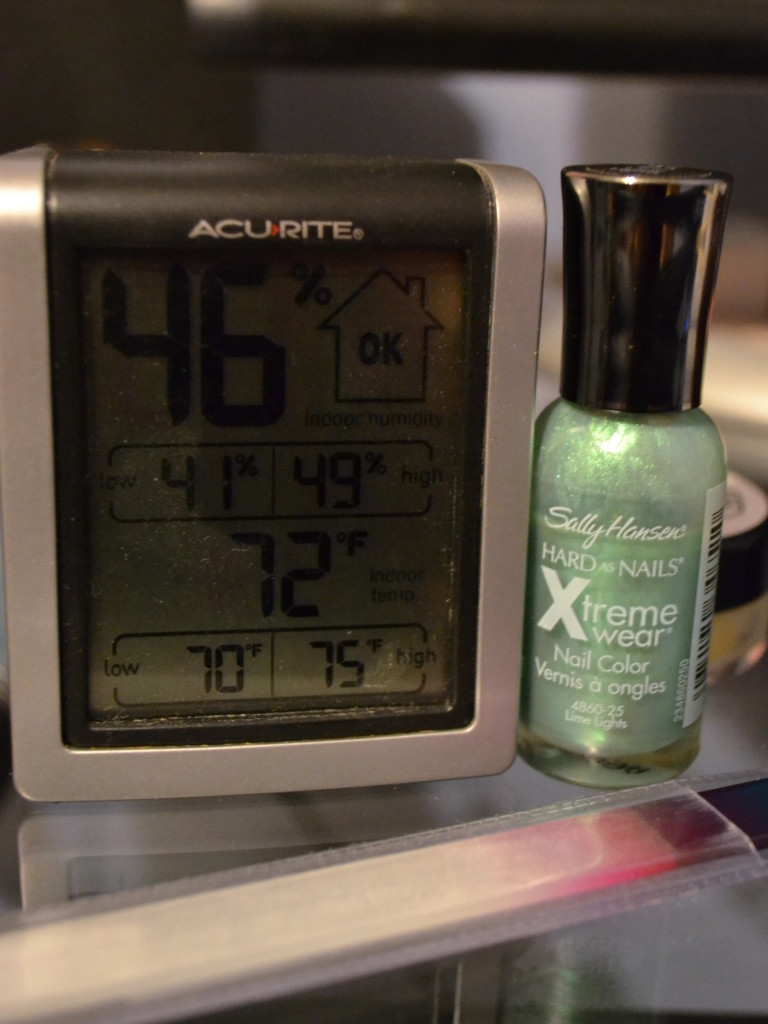 This is the oldest bottle of polish I have in my collection. I had many (read 4) polishes before this from middle school but they dried out and I threw them out because I didn't know about polish thinners back then. Oh well, live and learn. Lime Lights is a pearly, shimmery green that's best used as a topper. It's very sheer on its own and won't build up to any substantial presence. You can go to makeupalley.com and look up reviews for this color and you'll get many complaints that it doesn't really look like what's in the bottle. This is because Lime Lights is iridescent, and iridescent polishes need a solid color behind it to really pop. I chose to swatch this over black but any dark solid color will do. People say this polish looks good over white or nude as well. If you've tried this color combo I'd love to know what you think. I'm a little iffy on getting white on my nails evenly so I won't be doing that.
Painting conditions: RH 46% and 77 °F (the picture was taken earlier). I had the AC on because it gets hot and humid here without it.
Formula: The formula is good. My bottle has been sitting around since 2008 so it's thickened somewhat but the formula is still smooth and spread easily. This polish is heavy on the shimmer and is frosty. You will get visible brush strokes so please take care when painting it on.The first coat didn't cover the black entirely in the areas where the brushstrokes were thinner creating a look with more depth. The pictures don't really capture it but the second layer helps create an even tone and lightens the color up to a minty lime. I only did two coats because the third coat would be more of the same: lighter and a more even tone.
Here are pictures of the painting process.
It's a pretty shimmer but definitely has a late millennial feeling to it because of its extreme frostiness.
Concluding thoughts: I think paid $2 for this 0.40 fl oz (11.8 mL) bottle. It's beautiful and versatile and has a lovely formula. You can find it on amazon.com currently for $7. As long as you don't try to wear it as a standalone color, I think it's a great polish. Definitely worth the $2 I paid originally to be able to add flair to my other polishes when I get bored with them. I don't think it's worth $7 but you may be able to find it on blog sales or ebay for cheaper.
Thanks for tuning in! Next time I'll have something summery and fun to share with ya'll. Until then, stay cool. 8)