Aloha, Binners! It's summertime, and summertime means summer manis. Today's cool color is one of Sinful Color's core line, Tempest!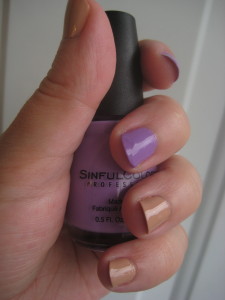 Tempest is a soft pastel purple, leaning warm. I think this is three coats, and as you can see I messed up on that middle finger a bit. Oops! But hiding imperfections is what nail art is for, right?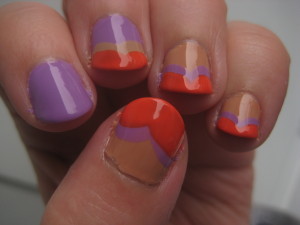 Right.
I'm wearing Sally Hansen's Patent Gloss nude Chic, along with L'Oreal Boozy, which is a wonderful color combo. I loved this mani, and it wore well. Tempest was nice and easy to put on, with a nice controllable formula, and I put fast dry Seche Vite on top to give it a nice shine. I don't have any dupes for Tempest.
Would I recommend picking up Tempest? You bet! It's a great color, and I saw no VNL. If you like purple, consider picking it up.
(Outdoors, sun
Indoors, lamplight)