It's time for another installment of the Sin Bin, and it's a pretty one this time!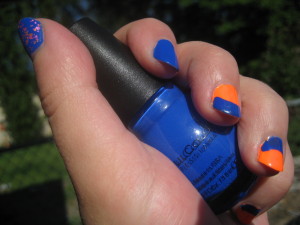 This beauty is Endless Blue, a gorgeous cobalt creme. I got two smooth coats on that index finger. It's a core color, easy to find and easy to wear.  I personally don't have any dupes, but that's not to say there aren't any out there, just that I don't own any.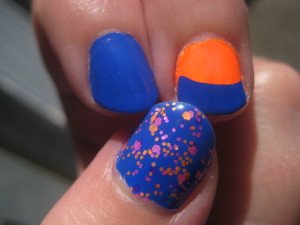 The three polishes seen here are Sinful Colors Endless Blue, China Glaze Japanese Koi (that orange!) and China Glaze Let the Beat Drop. I knew I had to pair this bright blue with an outrageous orange, and the glitter topper on my thumb rounds it out wonderfully. I love this mani!
Overall, I like this polish. Would I recommend it to others? Hell yeah! If you don't have a nice bold blue, picking Endless Blue is a nice way to add that to your collection without breaking the bank.
(top: indoors; bottom: shade)