Welcome to The Sin Bin, where we try to find a cheaper alternative to some pricier polishes. We've all encountered the Sinful Colors rack at stores, typically for $1.99 (.99 if it's on sale) but beyond some of the more creative glitters such as the recent Love Sprinkles and Shamrockin!, most blogs turn their noses up at reviewing this cheap brand in favor of more expensive mainstream brands and indies. I want to remedy this, so The Sin Bin is here to show off color, formula, and (if we've got 'em) any dupes to higher-priced or less attainable polishes.

First up we've got Sinful Colors Boogie Nights! This is one of the core collection at my local Walgreens, not in one of the special collection displays that they put up, so it should be available year-round.
This is a warm red-orangey creme. There's not much more to say, it's a very simple creme without glitter, shimmer, or particularly high gloss.  Formula-wise I thought it a little thin, almost jelly-like, but I fully admit that might be my bottle. I'm wearing Sally Hansen Insta-Dri topcoat with my mani today, and OPI Natural Nail basecoat. Keep in mind that body chemistry CAN affect how your top- and basecoats wear on you, and that what works for me might not work for you.
I personally try not to have dupes, so I unfortunately won't be mentioning if there are any for Boogie Nights. I dug through my swatches and only found one polish that was similar to the color, and that is LAC Color Craze Magnetic Force, shown here on my middle finger.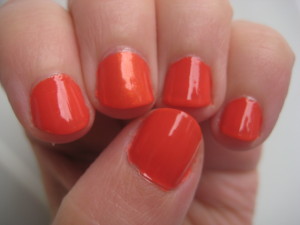 Between the two I think I prefer Magnetic Force, because of the incredible orange gold shimmer that it has. Both polishes had some VNL but Magnetic Force had less.
Overall, I would not consider Boogie Nights to be one of my favorite polishes, but it is still a decent color and formula for the price.
(top-bottom: outside shade, indoors, outside sun)