Latest posts by Admiral Kettch
(see all)
Hello all and welcome to the inaugural post of a segment I'd like to call Polish for Pennies. My goal is to provide reviews and swatches of polishes that can be found in supermarkets and drugstores. I find that cheaper polishes are often skipped over in blogs in favor of high end or indie nail polishes. While I am a shameless lover of indie brands, I am also a notorious cheapskate and love going through the aisles at the grocery store in search of a beautiful Wet n Wild or Sally Hansen. Nothing makes me happier than to leave with a handful of polishes for under $5. I will mostly avoid Revlons as one of my friends will focus her segment on those so look forward to it! All pictures are as is downloaded from my camera. Any image correction will be noted below the image. Now…on with the review.
Today I've got Maybelline Color Show Green with Envy. It's Easter weekend and this was the only pastel color in my entire collection. I'm not much of a pastel girl as they tend to make my fingers look red and inflamed, but this ended up being a very pretty color on me.
First, the painting conditions: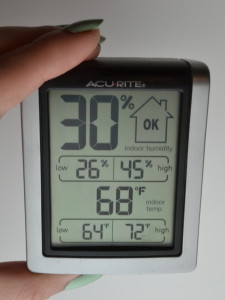 I have this cool little device that detects the relative humidity and temperature in the house. It was originally used to monitor the environment of my orchids but I figured it's a great tool to document the conditions during the painting process. Humidity and temperature often have an effect on the texture and dry time of polishes. So today, it's on the low end of humidity and fairly chilly in the house. For context, people tend to find a relative humidity (RH) of around 45% to 65% to be comfortable. I try to avoid drafts while I'm painting as I find it makes polishes gum up faster and be more difficult to handle. I love keeping track of stuff like this. Incidentally, it's also sunny and beautiful outside. :D
RH: 30% Temp: 68 °F
The bottle I have had been sitting around for a year and was definitely separated. I'm a little sad I didn't take a picture of it before I shook it out because it was pretty dramatic but a gentle shake mixed everything back together like new. You can see a yellowy line in the bottle shot of where the pigment had settled but otherwise you wouldn't be able to tell. So don't worry if it looks gross on the shelf as long as it mixes back together.
Formula: The formula is on the thin side from what I was expecting. Pastel colors, in my experience, tend to be thick but this was very manageable. I was able to load the brush and place it where I wanted. I didn't have any problems with flooding though the polish did not want to self level when using thin coats. There were some thin patches after the second coat so I went with three total. I would recommend using a very thin first coat and then thick coats after that so you have time to smooth it out before it dries. It dries super shiny so a top coat isn't necessary, but I found it helps to make the polish look more leveled if you are like me and didn't manage to get it to be even. I don't know what the dry time is like because I use a quick dry topcoat to finish all of my manicures. I'm very impatient and can't help but poke the nail to see if it's dry, which invariably results in dents that I then have to smooth over but that never works and only ends up with more mess. So, always be top coating.
Here are shots of the manicure in process. You can hover over each picture to show a larger version.
My top coat of choice is Seche Vite. I've found nothing else compares to how quickly it dries and its shiny, smooth goodness. There was very mild shrinkage around my cuticles (I capped my tips with Seche Vite to avoid tip shrinkage) but it's not noticeable unless you're looking at them inches away from your face.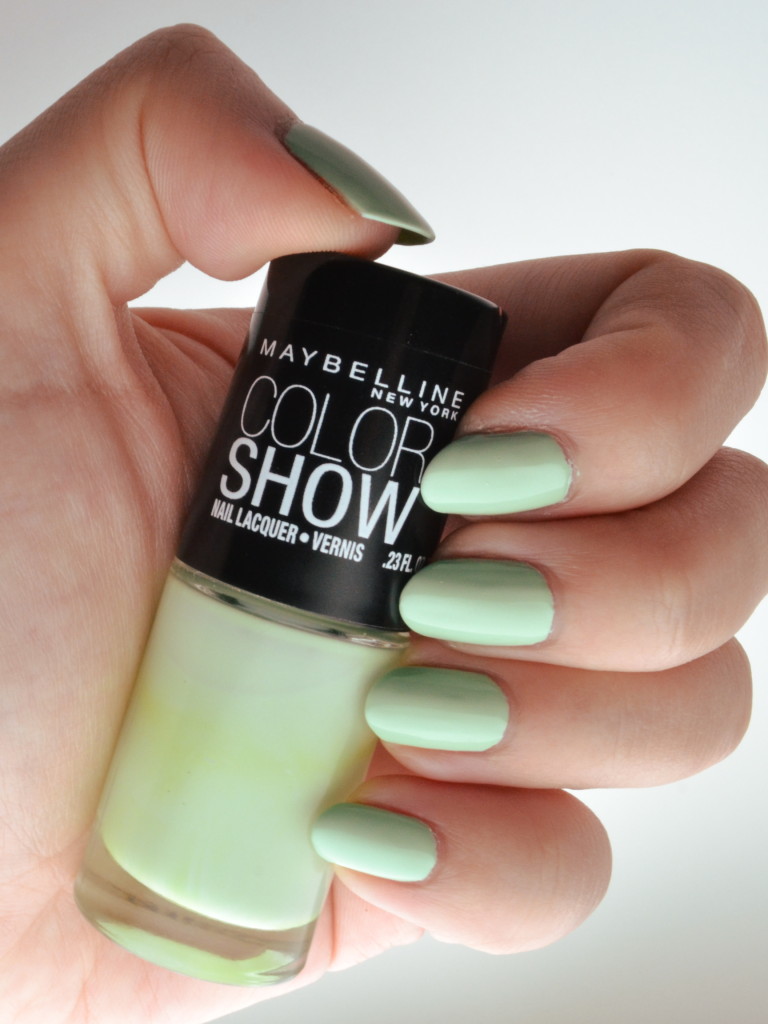 The bottle shot was color corrected to most accurately represent the polish color. If anything, I think the polish is less blue leaning in real life  but this is fairly accurate. My fingers don't actually look that red but I don't know how to fix that without changing the nail color as well. My shop-fu is abysmal.
Concluding thoughts: I paid about $4 for this .23 fl oz (7 mL) bottle. It's fairly expensive for the quantity considering it's the smallest standard bottle size of any brand that I own (Sally Hansen and Wet n Wild are around .4 fl oz [~12 mL]). However, I never finish anything so it's not really a concern for me. It has a good formula and and is a pretty color so it's worth the price for me.
Thank you for reading and hope you enjoyed this review! Next week I'll be reviewing NYC Long Wearing Skyline Blue. Have a lovely holiday weekend and hope to see you back!
~PP